One of the most common questions I see in guild chat is, "Is anyone here a <insert profession title>?" Lucky for us WoW has built the ability to answer that question right into the guild window.
When you click on the roster tab at the bottom of your guild window you'll notice in the upper right-hand corner you have the ability to sort the members by several different stats, including professions. Also note in the bottom left corner you can choose whether to show offline members as well.
After sorting the guild members it's simply a matter of finding the profession you need. You'll notice it shows which guild members have that profession and what their skill level is.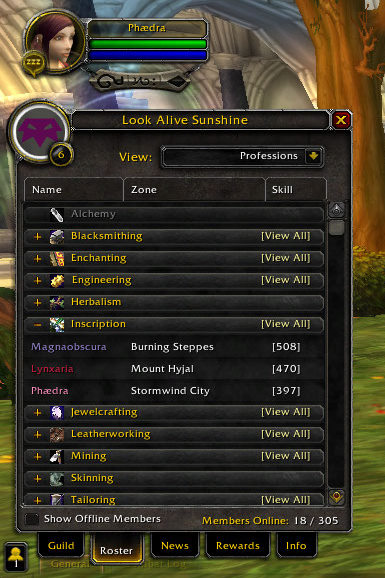 Clicking on the guild member's name will open a new window showing all of the recipes known to that member. You can also click the individual recipes in the new window in order to see which materials are required.
I hope this helps some of our newer members!!



Posts

: 21


Points

: 3153


Join date

: 2011-01-07


Location

: Florida



Wow great info! Thank you so much for taking the time to post that. You are an asset to the guild, the game, and humanity!

(Honestly though... I had no idea about the professions thing. Thanks!)



Posts

: 12


Points

: 3124


Join date

: 2011-01-11


Age

: 37


Location

: West Palm Beach, FL



Similar topics
---
Permissions in this forum:
You
cannot
reply to topics in this forum